J-Litter
Herding Devils Just Fetching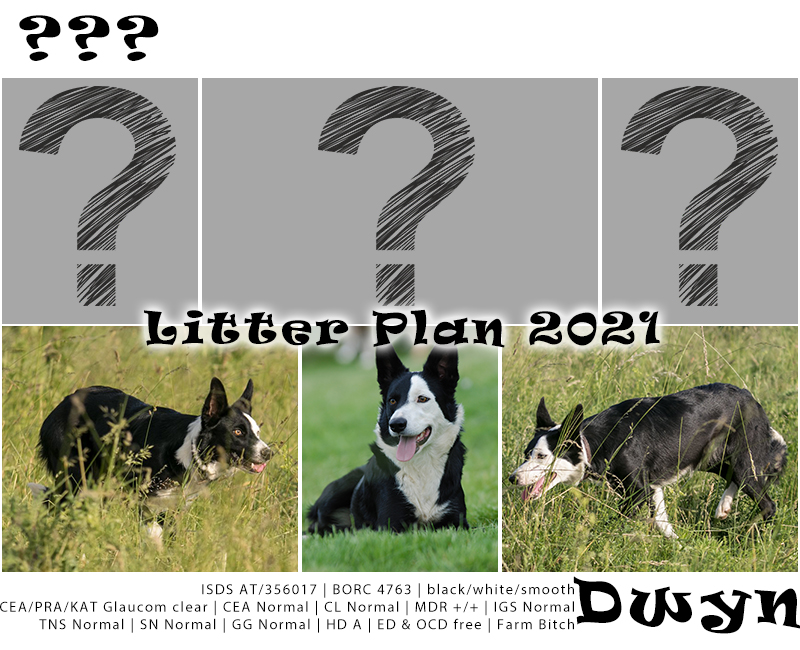 Characteristics
Day of birth:
expected around 01.05.2021
Details:
Litter plan for 2021

Dwyns first litter is planned for 2021. The planned stud dog is already 99 % fix, he will be published in time, if everyhting goes well!

There will be expected smooth coated puppies expected in black/white, they will be perfect for herding and/or dog sports. Puppies will be FCI and ISDS registered (ISDS registration delayed because Dwyn needs her Trial result/Working Test according to Austrian breeding rules, but will follow asap)

If you are seiously interested, please contact me direct for more information!
Details parents
Day of birth
01.01.2000
31.01.2018
Studbook nr.
BORC 4763
ISDS AT/356017
Health
CEA/PRA/KAT clear 17.12.2020
Glaukom clear
CEA/CH Normal
MDR +/+
IGS Normal
TNS Normal
NCL Normal
SN Normal
GG (Glaukom/Goniodysgenesie) Normal
HD A, ED & OCD free
Activities
Herding in Training
Show "Very Good"