M-Litter
Herding Devils Move On ...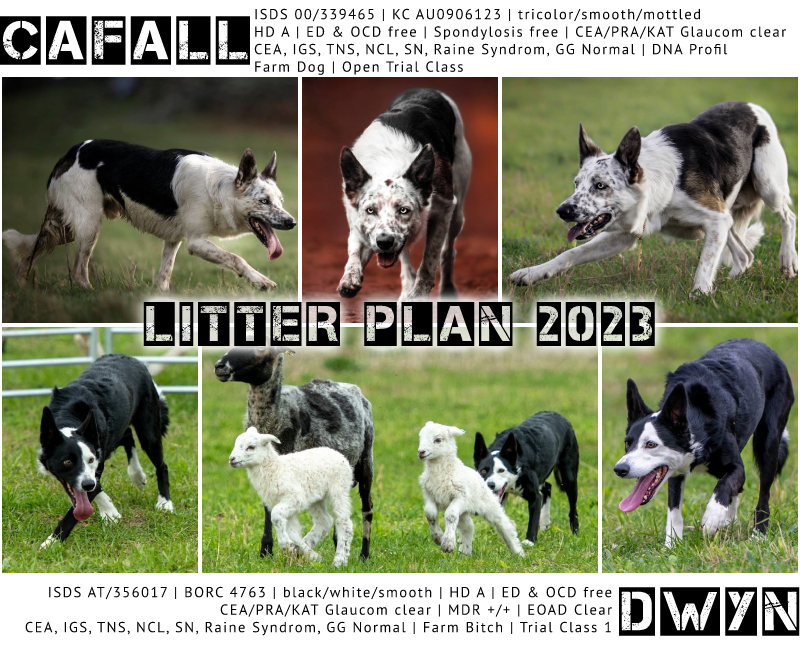 Characteristics
Day of birth:
expected around 05.04.2023
Details:
Litter Plan 2023

There is a further litter planned with Dwyn for 2023!
There will be black/white and tricolor puppies (maybe also mottled) with smooth (maybe rough) coat expected.
The puppies will be FCI & ISDS registered.
Pups will only be available for sport and/or working homes.

If you are interested into this litter plan and for further details of the combination, I ask you to get in touch in time.

- 19.1.2023 - Dwyn is in heat
- Dwyn was mated to Cafall on 1./2./3.2.2023
- According to ultrasound, Dwyn is in pup by Cafall
Details parents
Color
tricolor/mottled
black/white
Day of birth
23.05.2015
31.01.2018
Studbook nr.
ISDS 00/339465
AU0906123
BORC 4763
ISDS AT/356017
Owner
Magdalena Karaszewska
Beatrix Hausdorf
Breeder
B. Cala-Lesina
Beatrix Hausdorf
Health
CEA/PRA/KAT clear 21.01.2020
Glaukom clear
CEA Normal
MDR +/+
IGS Normal
TNS Normal
CL Normal
SN Normal
GG Normal
MH Normal
HD-A, ED & OCD free
CEA/PRA/KAT clear 17.12.2020 + 21.11.2022
Glaukom clear
CEA/CH Normal
MDR +/+
IGS Normal
TNS Normal
NCL Normal
SN Normal
GG (Glaukom/Goniodysgenesie) Normal
EAOD Clear
HD A, ED & OCD free
Activities
Trial Open Class
Agility A1
Show "Excellent"
Farm Bitch
Show "Very Good"
Trial Class 1 (ASDS Cupwinner 2022)